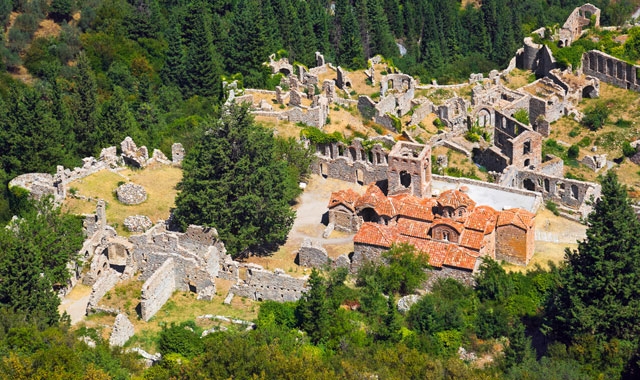 Mystras (near Sparta) - The Medieval State
Following the road from Sparta that passes through plane trees, cypresses, olive trees, mulberries and orange trees, you reach Mystras . On the naturally defended hill of Myzithras in Lacedaimon, the ruler of the Frankish Principate of Achaia Guillaume de Villehardouin built in 1249 a strong medieval castle the "Oriokastro" which was to play an important role in the history of the last centuries of the Byzantine Empire.

In 1262 the Byzantines made themselves masters of Mystras, inaugurating a brilliant period for the medieval fortress-state. Houses covered the hill, mansions and palaces, churches and fortified monasteries were built and the densely settled city was encircled by two enclosure walls. High on its summit stands an impregnable fortress and on its flanks extends the erstwhile glorious medieval state of Mystras.

Mystras became the seat of the Byzantine commander of the Peloponnese. The inhabitants of Sparta, who felt insecure in the undefended plain, moved to this spot, which consequently started coming to life and developed into a city. Houses were built, a Metropolis, monasteries, palaces and ramparts. Mystras developed at such a rate that a hundred years after the building of the castle, in 1348, it became the capital of the Despotate of Morea. During these years Mystras experienced its greatest peak. An intellectual centre developed were personalities in the arts and letters brought from the capital of the Empire, which was then in decline congregated.

During the 1821 Revolution Ibrahem set fire to this much-tortured place for the last time. By the time Othon came and built new Sparta, Mystras was already dead. The gloomy world of the ruins remained as a testimony of a state which in its day constituted the unique hope of the revival of an empire which was slowly dying and which is today the sole example of a medieval settlement with its castle, the fortification walls encircling it, its palaces, churches and mansions.

Voulkano Monastery of Messinia
Byzantine Monastery close to the archeological site of Ancient Messini, (also knon as Ithomi)