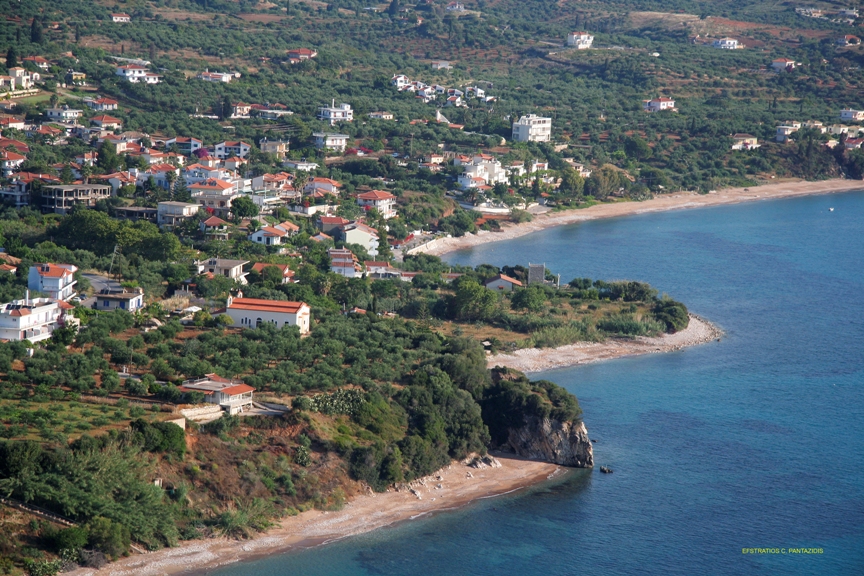 Chrani, one of the most beautiful tourist resorts in the wider area, is built at the foothill of Likodimos, a low mountain (959m) which forms small costal valleys of vineyards and olive trees. The village is stretched along the coast, and really impresses the visitor with its spotless beach, clear waters and rich vegetation. The winter in the area is mild and the summer pleasant because of the northerly winds and the see breeze.
The hospitality and politeness of its residents, combined with the accommodation facilities offered, guarantee the visitors many pleasant moments. Enjoy a romantic sunset away from the "holiday crowd", or a walk on its 2km long sandy beach, follow the uphill road to Vigla and reward yourself with the most breathtaking view of the Messinian Gulf and Taygetos Mountain, while resting under the shadow of an age-old tree outside the small country church of Aghios Dimitrios.
Additionally in its several traditional taverns you will taste some of the most famous dishes of Greek cuisine, as well as many local specialties. Everything else that can make your holidays more comfortable, such as mini-markets selling a variety of local products, car rental, bus stop and gift shop are only a walking distance away. If relaxing and exploring is your ideal, then Chrani is the place to be!