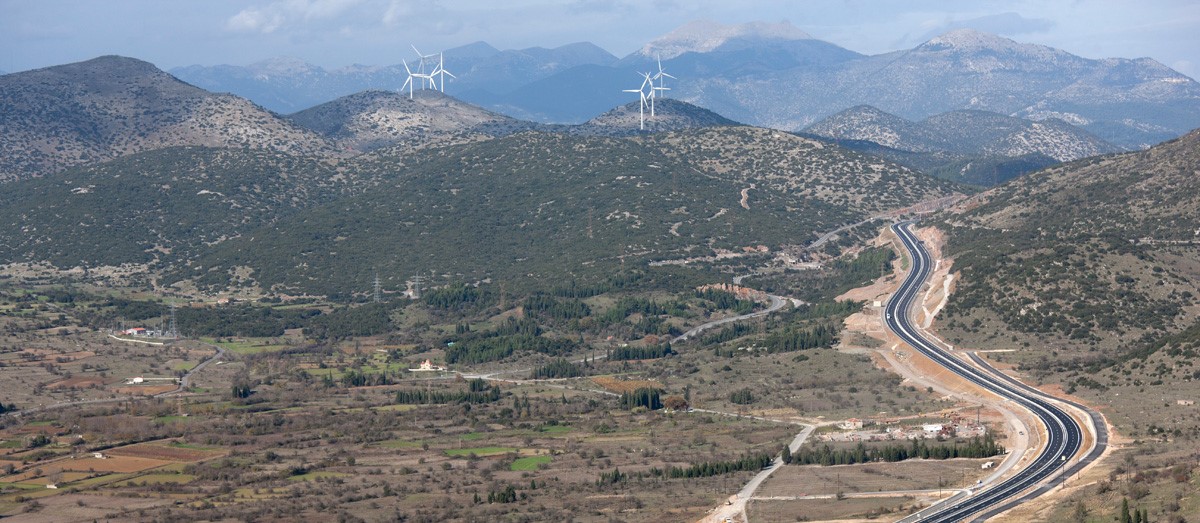 Kalamata, which is the capital of Messinia, can be seen as one of the three points of a triangle, the others of which are Corinth (North) and Patra (West). This triangle shows the main passages of entry to the Peloponnese peninsular.

The distance Athens - Tripoli - Kalamata - Chrani is about 260 Km long and can be covered by car in less than 3 hours. The road takes you along the coast, through the vineyards of Korinthia and the mountainous masses of Arkadia before you reach the fertile Messinian valley. Since March 2013 the new road to Kalamata is open and travel time has been reduced considerably.

Kalamata is also connected to Athens by bus. The bus KTEL Messinias can by taken at the KTEL Bus Terminal of Kifissos in Athens and covers the distance in about 3 hours. There are several bus services throughout the day and some of them are direct (the so-called "express services" are without stop-overs and a bit faster, about two and a half hours). Tickets can be booked online, and you can even pick your seats.
(coverphotos via: moreas.com.gr)
Driving Directions (last update June 2016)

Below you can see two route descriptions, of the following distances:

a. Athens Airport - Tripoli - Kalamata Airport (photo route step 1 to 14, allow 16.15 Euro for tolls)
b. Kalamata Airport - Paris Village Apartment Hotel (photo route step 15 to 18)

These driving directions are courtesy of PhotoRoute (c)


a. Athens Airport - Tripoli - Megaloupoli - Kalamata Airport
1. Athens Airport - Attiki Odos - pay 2.80 Euro
Leaving the airport you automatically join the new Highway Attiki Odos, and you should follow the signs to Elefsinia. Since it is customary in Greece to pre-pay for the distance you will drive, you pay 2.80 Euro at the toll post. This first stretch (46 km long) should not take more than 30 minutes.

2. Elefsina Toll post - pay 2.10 Euro
The second stretch of Highway takes your from Elefsina to Corinth, and offers spectacular views over the Saronic Gulf (on your left). This part will take another 40 minutes approximately.

3. Corinthos Toll post - pay 1.80 Euro
Shortly after the toll post you cross the famous Corinth Canal or "Isthmos" over a the new bridge.

Note: if you wish to stop for a picture it is better to follow the signs for Isthmos, which is a nice tourist area at the old bridge. This exit is about 100m before the new bridge (the signpost mentions Corinth - Isthmos - Loutraki). At the old bridge there are restaurants and souvenir shops, and lately adventurous people even try bungee-jumping. The fast food restaurant Goodys offers a wide variety of burgers and salads, and has an indoor and outdoor playground for kids. The permanent exhibition shows how the canal was built.

About 500 m further you can turn left at the traffic light, and then right in order to join the highway again (take the A7 direction Tripoli / Kalamata, not Athens!).

4. Junction after Corinth Canal - keep left for Tripoli.
Heading for Tripoli, the old fortress of Ancient Corinth is on your right hand side, visible high on top of the impressive rock. You are now on the A7 motor way and about 150 km away from Kalamata.

5. Spathovouni toll post - pay 2.50 Euro
There is also new rest area called Spathovouni (with gas station, 'Goodys' restaurant and cafeteria 'Flocafe') where you can have a break. You are now heading for Tripoli, through the wine region of Nemea. Kalamata is clearly signposted and marked with A7.

It is a long climb uphill until you reach the Artemisio Tunnel but immediately after the tunnel you can stop for a rest at the beautiful Alea Rest Area, and enjoy the spectacular views. The restaurant and fuel station here are open 24 hours. There is an ATM as well in case you need to withdraw cash. You have covered about 160 km so far.

6. Since 2009 both tunnels of Artemisio are in use. In winter this area is foggy and very cold, often with snow.

7. Nestani toll post - pay 2.35 Euro
At this toll post, shortly after the tunnel and the restaurant, you follow the renovated highway that takes you around the city of Tripoli.

8. Continue straight ahead and ignore the signposts for Tripoli North, Sparti and Tripoli South.
The onward journey takes us over several hills and offers great views of the gentle landscape. On the other hand, now that the road works are completed there are fewer opportunities to stop and explore the villages. If you have time you could visit one of the traditional farms of Athinaio and buy cheese, honey, olive oil or even hand-made pasta.

9. New motor way around Megaloupoli.
Since April 2010 you can enjoy the new highway around Megaloupoli and save considerable time. Kalamata is clearly signposted and you will enjoy driving this part of your journey. Don't miss the great views of the notorious "cloud factory" of Megaloupoli !

10. Manari Bridge - Toll post: pay 1.90 Euro (you have covered about 200 km so far)

11. Veligostis- Toll post: pay 1.20 Euro (you have covered 225 km so far)

12. Kalamata North - Toll post: pay 1.40 Euro

You are now just a few kilometers north of the city of Kalamata and approaching the end of the motorway.

13. Exit "Messini / Pylos / Airport"
You are now leaving the motorway and you should turn right at the traffic light. Keep following the signs for Messini and Airport.

14. Arriving at the end of this road (roundabout) you should turn right and you will soon see the Airport on your right (roundabout). This road is flat and straight and leads to Messini.
b. Kalamata Airport - Chrani

15. From Kalamata Airport to the city of Messini is a straight, flat road of only a few kilometres and soon you will arrive at a roundabout.
Take the third exit that shows Pylos (39 km).
Note: The first exit takes you to Meligala and Ancient Messini (also known as Ithomi), the second exit takes you to the town square of Messini.
You will see the two supermarkets located near this round-about, Champion Marinopoulos (Carrefour chain) and Lidl. You may wish to shop here or come back another day.

16. At the T-junction of Rizomylos (a.k.a. the 'Philips Shop') you should turn left and follow the signs for Koroni and Petalidi. At this point you have covered about 270 km. The signpost that mentions Petalidi 6 km (and several other villages) is about 100m after this junction. The road now takes you along the coast (the sea is on your left) and the Likodimos mountain is visible on your right hand side.

17. Petalidi
You are now approaching the village of Petalidi, which is the final stop-over before reaching Chrani. If you need a bank (ATM), petrol station, pharmacy or post office, they can be found at Petalidi. Drive around the square (with the church) and continue south, along the coast for another 6 km until you reach Chrani.

18. Welcome to Chrani
You are now entering Chrani, written as XPANOI in Greek. About 300m after this sign you will see the hotel entrance of Paris Village on you right hand side.
Note:
The driving directions above are courtesy of PhotoRoute (c), and customers of Paris Village Hotel may print them or keep a copy in HTML or WORD format. If you need any further information on how to get to our hotel in Messinia please contact us anytime by email: info@parisvillage.gr or phone: +30 27250 32124. In case you are arriving much later than you originally told us, please give us a call.